EXTRAVAGANZA INTERNATIONAL, INC. (本社:アメリカ:代表:久積篤史)が手がけるPATRON/PATはGMT 2018 7/30 11:00 仮想通貨取引所CoinBene上場、PATRON特設サイト ローンチをお知らせ致します。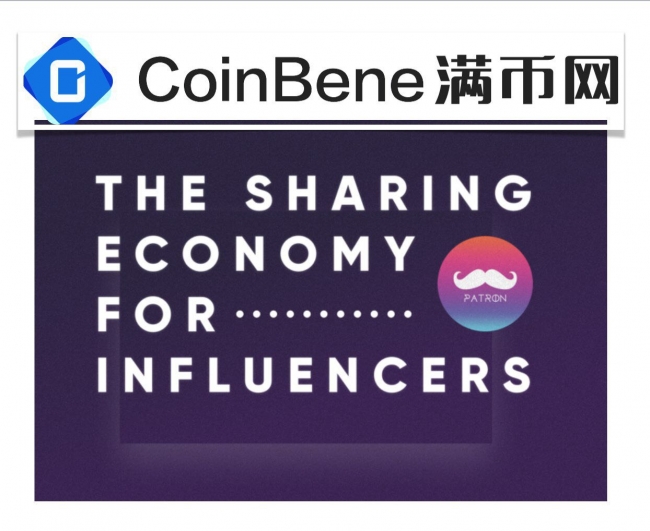 インフルエンサーのシェアリングエコノミーPATRONは、GMT 2018年7月30日 11:00大手仮想通貨取引所CoinBeneへ上場。
https://www.coinbene.com/#/notice/detail/742
入金開始:GMT 2018/7/30 11:00
取引開始:GMT 2018/7/31 11:00
出金開始:GMT 2018/8/2 11:00
CoinBene取引所は、CoinMarketCapの取引所ランキングで (取引手数料無料) TOP 3 の仮想通貨取引所。
革新的なビジネスモデルで仮想通貨メディア最大手「CoinTelegraph」でも取り上げられる。
CoinMarketCap
https://coinmarketcap.com/ja/exchanges/volume/24-hour/no-fees/
CoinTelegraph
https://jp.cointelegraph.com/news/two-crypto-exchanges-introduce-new-fee-models-achieve-record-trade-volume
PATRON/PATはCoinBene上場に合わせて、トレードコンテストを開催。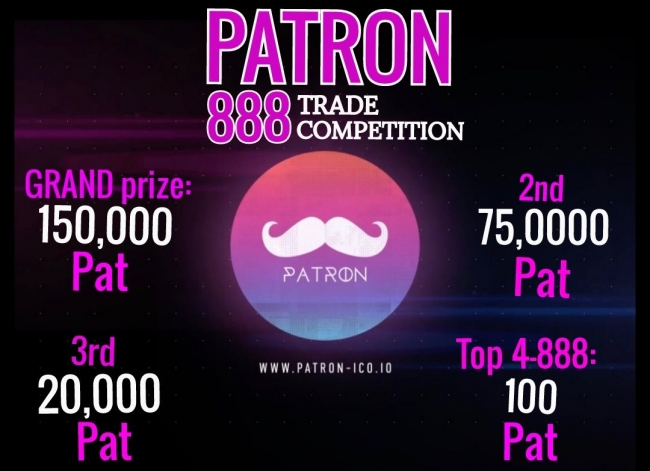 PATRON 888 TRADE COMPETITION
7月31日から8月6日の間トレードコンテストで888人のトレーダーに合計300,000PAT以上の報酬をPAT/ETHの取引量が多い上位888人に贈呈。(CoinBene内での取引のみカウント)
優勝:150,000 PAT
2位: 75,000 PAT
3位: 20,000 PAT
4位から888位:100 PAT
◇PATRON Official Ambassador ローンチ
https://patron-influencers.com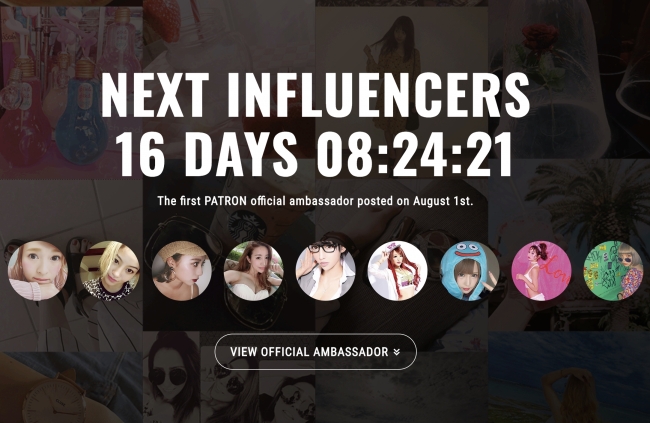 インフルエンサーのシェアリングエコノミー"PATRON"の公式アンバサダー掲載、PATRONの最新情報を公開することを目的とした特設サイトをローンチ。
国内外のトップインフルエンサーを順次掲載予定。
-PATRON
Patron Token Sale
https://patron-ico.io
Launched the PATRON Token Sale for the development of PATRON. The Token Sale achieved its hard cap of $40 million USD.
Whitepaper
https://patron-ico.io/doc/patron-wp-en-01.pdf
Superiority/優位性 (Founder's Blog )
https://ameblo.jp/hisatumi/entry-12357716983.html
"NYSE (interview
https://youtu.be/EIw_27Xr6Lw
"NASDAQ (interview
https://youtu.be/xPhKFaV6iJQ
" Forbes" -Top 1 Blockchain company to watch in 2018
https://www.forbes.com/sites/andrewrossow/2018/07/10/top-10-new-blockchain-companies-to-watch-for-in-2018/
https://www.forbes.com/sites/steveolenski/2017/12/27/how-to-make-influencer-marketing-a-global-experience-in-2018-and-beyond
" Cryptoline News" -Top 3 Blockchain company 2018
https://cryptolinenews.com/2018/07/blockchain-companies/
" Inc." -Influencer Marketing is Important for Your Business
https://www.inc.com/darren-heitner/influencer-marketing-is-important-for-your-business-but-dont-fall-for-traps-of-fake-followers-high-prices.html
" Entreprener -12 Startups Utilizing Blockchain Technology in New Ways
https://www.entrepreneur.com/article/310373
" TechStart-Up -Techstart-Up 2018
https://techstartups.com/2018/03/26/blockchain-startups-watch-2018/
News World Wide
" CoinSpeaker -Weeklly Token Sale Ranking Top 2
https://www.coinspeaker.com/2018/05/15/weekly-ico-market-analysis-may-7-13-2018/
" Webrazzi -Block chain venture 15
https://webrazzi.com/2018/03/28/blockchain-venture-summitte-sahne-alan-15-proje/
" Innovator Solution -Visa Everywhere Initiative Japan 2018
" Top Innovator 50 -NewYork Venture Summit 2018
" The Token Sale World Ranking in 2018
" Japan Ministry of Foreign Affairs, Japan Ministry of Economy, Trade and Industry sponsored. etc
・Japan Blockchain Conference 2018 in Tokyo
https://japan-blockchain-c.com/en/
Total number of visitors 12,000 OVER! In the history of the block chain, we recorded the number of obilization in the world.
PATRON of JBC 2018 Management Secretariat and Good Sponsor. Guest responsible for casting 19 speakers.
https://www.coinspeaker.com/2018/06/26/blockchains-top-dogs-will-speak-at-japan-blockchain-conference-2018/
https://bitsonline.com/influencers-japan-blockchain-conference/
https://bcfocus.com/news/ripple-will-be-the-global-standard-says-ceo-of-sbi-holdings/17269/
https://coinidol.com/tokyo-hosts-japan-first-blockchain-conference/
https://bcfocus.com/news/eos-eos-participating-in-japan-blockchain-conference-in-tokyo/16969/
・Crypto Night Ventures
Atsushi Hisatsumi of Patron Founder to as " FEATURED FOUNDING MEMBERS " of CRYPTO NIGHT VENTURES.
https://cryptoniteventures.com
◇エクストラバ ガンガン インターナショナルについて
会社概要
会社名:EXTRAVAGANZA INTERNATIONAL、INC。
所在地:257 Old Churchmans Road DE 19720 USA(ワールドワイドネットワーク)
代表者:久成篤史
設立:2017年2月
URL: http ://extravaganza-intl.us/
事業内容:EXTRAVAGANZA INTL(「エクストラバガンサンインターナショナル」2017年2月創業、本社・アメリカデラウェア州)は、1.ソフトウェア開発2.マーケティング支援を主要事業とする。インフォルエンサーやSNSユーザーがネットや携帯やタブレットでメディアを掲載・公開・売却買収・ライブ配信できる信頼性の高いコミュニティー・マーケットプレイス「PATRON」や https://fansta.us/)の開発や運営をおこなっている